Tech News
Join our mailing list to be kept informed on changes in technology that can affect your business operations. Our emails are short and to the point, so they don't require a lot of your time to stay on top of things.
Read the Windows XP Bulletin...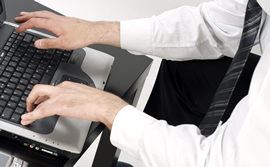 Verse Technologies is a leading database solutions designer for small to medium sized businesses.
Besides developing our own programs for businesses, we can help you deploy solutions for your company as well.
Welcome
Verse Technologies is a Portland, Maine-based technical solutions company covering all of New England and eastern New York, with some national assignments now and then. We specialize in making certain you get the support and product you want without having to make compromises.
Our services include:
Technical support (onsite, phone, email)
Network & PC troubleshooting and repair
Website design, maintenance and support
Graphics design (print, web, touch panels)
Social media consultation (no charge), setup and support
Flexible service agreements
See the Service page for a more complete list of services.
Technology's great – computers, routers, printers, tablets, etc. – so long as it's all working the way it's supposed to. If things aren't working right for you, if you're not getting what you want out of your technology, fixing it does not have to be expensive. Give us a call, we'd be happy to come in and talk about what we can help you with.
Some current and past clients include:
Walsh & Associates
City of San Diego
Salvation Army (national)
Writing with Clarity
Seaside Pavilion
Quickprint Color Center
Demont & Associates
Summit of New England
Don Foshay's Discount Tire & Alignment
Planning Decisions
And a variety of SOHO business owners
Requesting Service
To request service, please email us
For contact purposes, our normal business hours are from 8:00am to 5:00pm, Monday through Friday. We are, however, available for after-hours work and on holidays and weekends.